Rio Olympics: A Look At The Hairstyles Of These Amazing Black Female Athletes
Dominating the news cycle, was not just highlights of Black women and their accomplishments, but also highlights of the hairstyles that many Black women wore while competing for their spot in history. One athlete took center stage, gymnast Gabby Douglas. I spoke about this situation in 2012 when she competed in 2012, and now it seems that this hair 'thing' won't go away for this accomplished athlete. Let's take a look at their hair...
Simone Biles
Simone Biles is the sweetheart of this Olympics. Showing that Black girls have a certain magic that can't be denied. She choses to wear her perhaps relaxed hair in a ponytail, away from her face, with her signature braid in the front. Tied with a ribbon. Cute!
Simone Manuel


She looks to have relaxed but highly texturized hair. Because she is a swimmer, I assume wash and go's are probably the best for her. Whatever she's doing, she looks great. She has a nice length and fullness that allows for great versatility in styling choices. Swimming can be awfully harsh on Black hair but she's doing something right! In a sport where your hair is always wet, air drying is the best way to go as again, she looks as if she's rocking a relaxer. As long as it's healthy! She looks awesome! She was the first Black woman from any country to win a gold medal in swimming. She's the only Black woman in the world past or present that can claim that.
Good job Simone.
Michelle Carter
This shot put Queen brought home Gold for Team USA! She wears her hair in a variety of styles but I'm going to assume she's natural here by this photo alone. Tied back like the queen that she is, I've seen her rock braids and even straight hair.
This is English Gardner! She is with the US Track Team for team USA! She is one of the fastest runners and helped Team USA win gold in the 4X100 relay race!
It looks as if she prefers long long long hair and we don't blame her. Whether or not she uses extensions to get that length is not important to us here. What counts, is style and she has plenty of it. Along with a brain and a body! English is one of my favorites for those reasons.
Alyson Felix
Is this Beyonce of Alyson Felix? It's Alyson. One of the fastest women in the World. She broke records in Rio this year and is a style icon in her own right. Whether or not she is rocking braids or her signature ponytail, what counts is her speed! She is beautiful, talented, and oh so fast! Her natural hair looks quite long and it's possible that she has a relaxer. But nevertheless, she's an awesome athlete!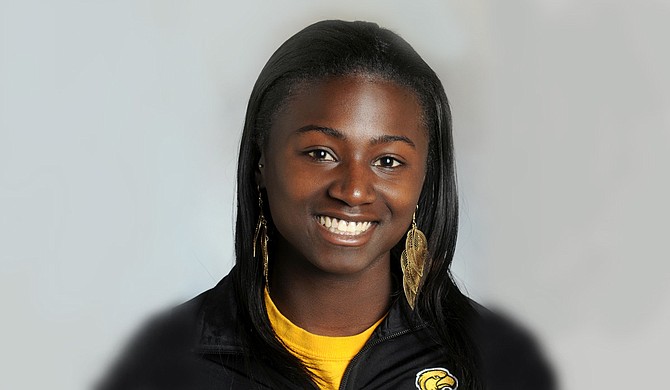 Tori Bowie
Meet Tori Bowie! Another fast woman representing Team USA for Track and Field. She's also won a gold medal! She can wear extensions, braids, or her own natural hair. It looks as if she does have a relaxer but her hair looks healthy and her style fierce. You don't want to have to race this woman! She'll win every single time!
Gabby Douglas
Easily one of the best gymnasts of all time, this little woman has had to weather unfair criticism where other athletes don't. Her edges and patriotism have been put into question. She's a beautiful woman and it's clear that she's natural. In a sport where athleticism is key, it's not always easy to keep your edges as slick as you'd like them. She's rocked a variety of styles from weaves to her natural hair. Who cares about that when you're trying to win gold medals for your country? Take the microscope off of her hair and onto her ability. They don't call her the "Flying Squirrel" for nothing.
This woman is a major inspiration to all women and that's all that we should be talking about. Every Black woman with Kinky hair knows what happens when you sweat. So why do we hold her to a higher standard? I guess for some people gold medals aren't enough to keep them off your back. We love you here Gabby. AS a former gymnast myself, I understand your struggle. Keep on fighting.
This is Alicia Glass. Team USA for VolleyBall. She's amazing and beautiful! She wears her naturally long hair in ponytails mostly when playing. I'm actually watching her now as I write this and I'm in love with her lovely locks. She's talented and incredibly smart.
I wished I could have included everyone but here are more pictures of the beautiful sisters that are competing in RIO 2016. Good luck to them all and thank you for your hard work and dedication. That's what this really is about. Not what is on top of your head. White women don't have to deal with this scrutiny and yet Black women do. Just one of the many obstacles to overcome in the future. Perhaps they'll care what we do instead of what we look like when we're doing what we love to do best.